Earn a monthly salary with all expenses paid such as an annual return airfare from Australia to China; quality accommodation; comprehensive insurance and health insurance;  free meals during the working week; airfare and a 7-day paid holiday package when traveling within China during your annual leave and much more!
You do not need any prior teaching experience or a second language. Registration is open for the September 2017 intake. Request your Registration Pack Today! Call 0435 771 486 or email info@chinarecruitment.com.au for more information.
You will be living in China teaching English in high-end universities or schools, with return airfares, fully furnished accommodation, travel insurance, lunches, and weekly Mandarin lessons all paid for. You will have plenty of time to explore, with 2.5 months paid holiday per year. Teaching positions are sponsored by Chinese universities. Your work visa is included plus you experience the luxury of one week fully paid for holiday sightseeing somewhere in China. We keep the entire process organised and stress-free.
For more information visit www.chinarecruitment.com.au
Recent posts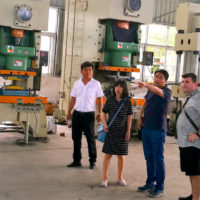 "Another Australian company has moved its manufacturing and production to China with ease thanks to AXCEN. Finding the entire... read more
Connect with China Recruitment Group
If you're ready to start a journey toward commercial success, get in-touch with your China Recruitment Group team member or visit their website.
Connie da Cunha: 0435 771 486 / info@chinarecruitment.com.au
Director
China Recruitment Group Pty Ltd