Choose AXCEN as your trusted ambassador and guide
AXCEN is a premium China-Australia agency with more than a decade's experience operating successfully in China and Australia as a business enterprise, service provider, consultant, relationship broker and strategist.
AXCEN's intimate knowledge of China and peerless connections with Chinese enterprises, Government and peak bodies has delivered outstanding results for Australian and Chinese clients across the board, including investment, joint ventures, business deals and Government agreements.
AXCEN specialises in long-lasting, mutually-beneficial China-Australia partnerships by initiating and managing interpersonal relationships, undertaking negotiation and communication tasks and advising on culture, custom and politics.
AXCEN is a trusted ambassador and guide, by your side from first contact through to long term prosperity.
What you need to know
AXCEN offers business prosperity and wealth creation. AXCEN shares with its trusted clients and partners the sophisticated knowledge and insights of China to ground you and enable your success. Axcen provides a wide range of services to Australian and Chinese businesses wishing to do business, including:
Export and import of products, technology, personnel and services
Dynamic and diversified business models and methods to achieve the mutual success with minimum risks
Training and workshops on strategies to develop the mutual trust you need for success with China
Trade missions and personal introductions with critical contacts in China
Outcome driven advanced negotiation, translation and interpretation
Professional event management focused on doing business and achieving outcomes with China.
AXCEN is capable of handling the most complex and important Australia-China business negotiations. AXCEN is a recognised leader in the delivery of intelligent and culturally sensitive services which foster the long-term relationships necessary for success.
Recent posts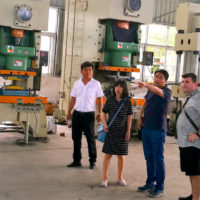 "Another Australian company has moved its manufacturing and production to China with ease thanks to AXCEN. Finding the entire... read more
Connect with AXCEN
If you're ready to expand your business horizon and start a journey toward commercial success, get in-touch with your AXCEN team member or visit the contact page for more information.
Paul Grieve: +61 423 000 181 / PaulG@axcen.com.au
AXCEN  Australia-China Development Group Pty Ltd