From Aussie farms to China's plates
The proud Aussie fresh fruit exporter trading as Kaole is a successful business created by Yan and Paul Grieve, principals of the AXCEN Australia-China Business Development consultancy.
Kaole was created in 2015 to take advantage of the rise of China's super consumers, who valued Australian fresh farm produce for its unrivalled reputation for quality. Australia's reputation for top quality fresh farm produce is second to none.
Kaole works with Australian food producers to ship their finest produce to the eager consumer market using Kaole wholesale companies throughout Mainland China and Hong Kong. Since the business was created it has shipped more than 350 containers of Aussie produce. Kaole will expand its operations many times over in coming months.
As one of Kaole's happy food producers said, "… your excellent communication skills and attention to detail made our involvement in your export enterprise an extremely pleasurable one. It is always rewarding to do business with a company that is focused on ensuring the financial outcome of any business deal is mutually beneficial."
Kaole is continually expanding its sources of fresh farm produce and Australian food products that meet its high standards of excellence and quality assurance.
Recent posts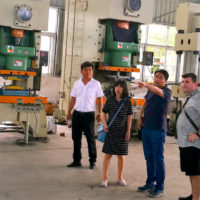 "Another Australian company has moved its manufacturing and production to China with ease thanks to AXCEN. Finding the entire... read more
Connect with Kaole
If you're ready to expand your business horizon and start a journey toward commercial success, get in-touch with your Kaole team member or visit the contact page for more information.
Paul Grieve: +61 423 000 181 / PaulG@axcen.com.au
General Manager AXCEN and Kaole
AXCEN  Australia-China Development Group Pty Ltd
Australian Food Trade Group Pty Ltd